Biography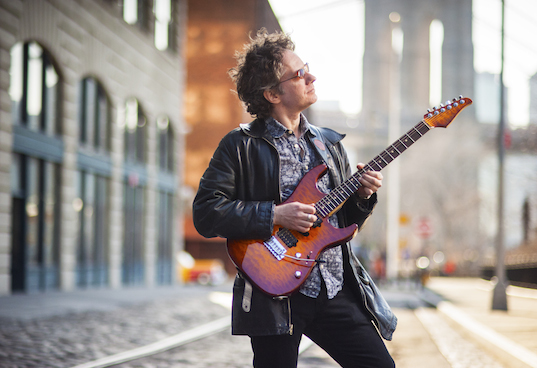 BIO
Chris Biesterfeldt is a guitar/mandolin player based in Brooklyn, New York. He has performed or recorded with a wide range of diverse artists including singer/songwriters Dana LaCroix, Stevvi Alexander, Margo Rey, Ned Massey, Raphael Saadiq, Warren Haynes; jazz artists Donald Brown, James Williams, Hector Martignon, William Cepeda, Broadway stars, Mandy Gonzalez, Julie Reiber, Natalie Douglas; classical musicians/ensembles Janice Martin, American Modern Ensemble, Princeton Symphony Orchestra; Nigerian talking drummer Kofo The Wonderman; and more.
Chris has recorded for TV shows and jingles (including Sesame Street, Johnny And The Sprites, ESPN, AT&T, Macy's Thanksgiving Day Parade and numerous others), in addition to live appearances on The View and Live with Regis and Kelly. He has also played in the orchestra for the Radio City Christmas Spectacular as well as many Broadway shows including Mamma Mia, Rent, Hairspray, Xanadu, Next To Normal, How To Succeed In Business Without Really Trying and Pippin.
Chris has performed in Asia, Europe and throughout the US as well as famous New York area jazz venues including Birdland, Blue Note, 55 Bar and the Zinc Bar. Chris also has two critically acclaimed albums of his own, Urban Mandolin and Phineas.
Find out more about Chris's albums!
---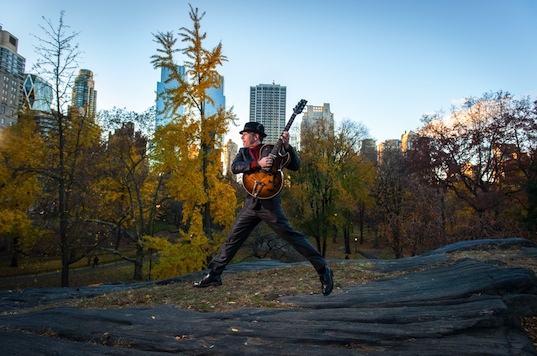 CHRIS'S BACKGROUND
Chris grew up in Asheville, North Carolina and began playing guitar at age eleven. He was playing professionally by age sixteen. While initially attracted to rock music (Led Zeppelin, Aerosmith, e.g.), Chris soon discovered jazz by way of Jeff Beck, Robben Ford and eventually George Benson, Pat Martino and Wes Montgomery. While still in high school he attended a Summer Session at Guitar Institute of Technology in Los Angeles where he studied with Steve Freeman. During his senior year he won the Louis Armstrong Jazz Award at Asheville High School.
He earned a Bachelor of Arts degree with a Distinction in Music from the University of North Carolina, Asheville, where he studied with Mark Boling. While at UNCA Chris co-founded the contemporary jazz-rock band 'Inside-Out' which a recorded an album including many of Chris's original compositions. After completing his Bachelors degree, Chris became a music instructor and ensemble director at the University of North Carolina, Asheville, while also teaching as many as forty students a week at a local music store. During his time in Asheville he also played in numerous bands playing all kinds of music including country, blues, rock, funk, R&B, pop, reggae, etc.
In 1990 Chris accepted a graduate assistant position in the jazz program at the University of Tennessee, Knoxville where he taught jazz guitar majors and directed small jazz ensembles. While earning his Master of Music degree with a concentration in jazz, he studied and played with Donald Brown and Jerry Coker. Living in Knoxville for another two years, Chris continued to play jazz while also playing in a pop music road band that traveled throughout the southeastern United States.
Since moving to New York City in 1994 Chris has studied with Dave Stryker, Jack Wilkins, Wayne Krantz, Paul Meyers, Vanderlei Pereira and Peter Leitch. Chris was on the adjunct faculty at New York University for many years and currently teaches reading classes and private lessons as well as coaching ensembles at The Collective School Of Music in Manhattan. He continues to play and record all kinds of music with some of the best musicians in the world.