Music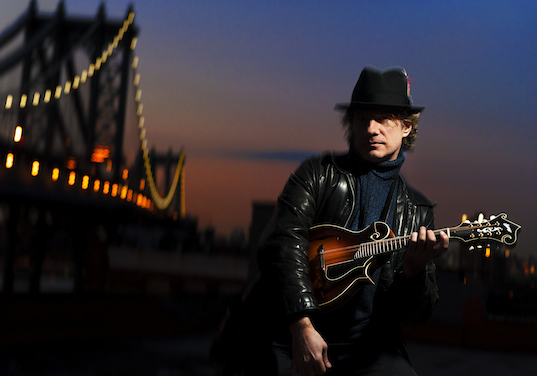 "Chris Biesterfeldt has serious mandolin chops."
– Kevin Whitehead for NPR's Fresh Air
MUSICIANS
Chris Biesterfeldt – mandolin
Adam Armstrong – bass
Eric Halvorson – drums
QUOTES
"Welcome Chris Biesterfeldt to the growing list of those who champion the mandolin as a jazz and all-purpose instrument. I used to point out how the mandolin is a mashup of two more accepted counterparts, the violin and the guitar. Now I'll just say "check out 'Urban Mandolin'-it's all there!" And it is, from Monk to funk, bebop to Beach Boys, Bach to Bird, and Jaco. Chris approaches both the music and the mandolin in fresh ways. For instance, the technique of playing single-note melodies and answering them with chordal information is virtually unique in the mandolin world. Luckily the spare instrumentation gives us a clear view of Chris's chord work, which is rich and fascinating. Bravo Chris and thanks for showing us even more of the possibilities on the greatest instrument in the world."
– Don Stiernberg
"Chris Biesterfeldt's new CD 'Urban Mandolin' is amazing. I've known Chris as a great guitarist since he first came to New York and had never heard him play Mandolin. (Actually I've never heard anybody play Jazz on the mandolin like this before). What he has done here takes not only great skill, taste and creativity, but a lot of guts! Along with the great Eric Halvorson and Adam Armstrong, Chris's trio creates some fresh and exciting new sounds. Check them out!"
– Dave Stryker
"Your CD is burning! If you can play that much mandolin, I can't wait to hear you on guitar. 'Some Skunk Funk', 'Teen Town', 'Bebop', etc. Incredible."
– Donald Brown
"Chris sounds like a jazz cat. I love those chord voicings."
– Jamie Masefield of The Jazz Mandolin Project
---
URBAN MANDOLIN – THE STORY
I'm a guitar player and had originally planned on recording a guitar album with mostly original music. I hadn't played mandolin very much (just simple parts for shows and recording sessions) and didn't even own a good mandolin. Since I had recently learned a few jazz tunes on mandolin I thought it would fun to record them and that it would be a good test run for making a guitar album.
Michael Croiter has a great studio (Yellow Sound Lab) where I had done session work. The friendly atmosphere and great sound made it the perfect place to record, especially since he also let me use his great sounding Collings MF5 mandolin.
Drummer Eric Halvorson and bassist Adam Armstrong are great musicians and friends with whom I had played in a variety of situations ranging from backing singer/songwriters to R&B, jazz and rock gigs. They were perfect choices because they knew my guitar playing and my sense of phrasing even though they didn't know if I could play mandolin.
So without knowing how it might turn out we had a short rehearsal and a week later recorded "Bebop," "Quasimodo," "Freedom Jazz Dance," "I Can't Make You Love Me," "Teen Town," "Back At The Chicken Shack" and "Bach G Minor Presto." The recording turned out much better than any one of us expected so I decided to record more and make an album out of it. I hope you enjoy listening to Urban Mandolin as much as we enjoyed making it!
-Chris Biesterfeldt
---
THE TUNES
Bebop | A great Dizzy Gillespie tune and was one of the first tunes we recorded so it's fitting that it's first on the record. Even though it's pretty fast we had a nice dialogue throughout.
Quasimodo | A Charlie Parker song written over the chord changes to "Embraceable You." It's a tricky but fun melody to play on mandolin and even more challenging on acoustic bass, which Adam handles effortlessly for the first half of the head.
Freedom Jazz Dance | An Eddie Harris tune that was recorded by Miles Davis and has been done by many great musicians since. The way we did this is influenced more by the original Eddie Harris version but also by John Tropea's take on this.
Presto from Sonata No.1 in G Minor | I was introduced to the Bach Sonatas and Partitas for Solo Violin when I took a guitar lesson with Adam Rogers quite a few years ago. And though I've always enjoyed trying to play these on guitar, it makes more sense to play them on mandolin since it is tuned like a violin. I started practicing this while playing at Radio City for the Christmas Show. I would bug any violinist who was sitting near me about fingerings or anything else to help. I'm thankful for their suggestions.
I Can't Make You Love Me | I think this is one of the best pop songs ever written. We tried to keep the vibe true to the original Bonnie Raitt recording.
Teen Town | A Jaco Pastorious song made famous by Weather Report. While we keep the harmony and melody the same as the original, we do it with a train beat that creates a totally different vibe – one that you might find on an old Johnny Cash tune.
Bright Size Life | The title song from one of the first Pat Metheny albums I ever owned. The original key works well with the open strings of the mandolin.
Ready And Able | A Jimmy Smith rhythm changes song that I heard on a George Benson album The George Benson Cookbook. It's also called "Bayou" on another of his albums – Benson Burner.
Armando's Rhumba | A great Chick Corea tune that I first heard played by pianist Donald Brown, whom I studied with when I lived in Knoxville. He used to play this at gigs fairly often. I wanted to learn it in case he might call it when I sat in. Though I never got to play this with Donald, I still have great memories of hearing him play it. Since the original Chick Corea recording had a violin playing the melody I thought that it would work well on mandolin and sound good with a trio.
Bye-Ya | A Thelonious Monk tune that we do with a New Orleans feel but in 7/4. Thankfully, Adam and Eric were up to the challenge and made it a lot of fun to play. There is an ascending line that I played during the first A sections that made the melody deceivingly difficult to play.
Witch Hunt | The original Wayne Shorter recording of "Witch Hunt" on Speak No Evil has an intro that is much faster that the rest of the song. We do the original intro, but then keep that same tempo for the rest of song with a 6/8 groove. The idea for doing this probably came from hearing Jerry Gonzalez & The Fort Apache Band, but was also influenced by my playing guitar with Kofo The Wonderman. Kofo is one of the greatest talking drum players in the world as well as a singer and his band plays really great 6/8 grooves among other things.
Segura Ele | A Pixinguinha (Alfredo Vianna) choro song. I teach at The Collective and one of my guitar students brought this in to play on guitar. He was learning this for a Brazilian ensemble class. I have been exposed to so much music by students and other teachers at The Collective and am very grateful. While recording this album and looking for more material and I remembered this song. I found a couple of recordings: one by Pixinguinha playing this on flute and another by Henrique Cazes & Marcello Gonçalves doing this as mandolin/guitar duo. This is the only song that I heard mandolin play before I recorded. Though I really love both of these recordings both influenced what we did I'd say this version is closer to Pixinguinha.
God Only Knows | A beautiful Brian Wilson song. It's one of my favorites because of the Tony Asher lyrics, the harmony, the bass motion and the overall feeling of it. My original idea for this was to play it like the Ahmad Jamal trio might do it. While that was a starting point it developed into our own thing. Eric colors this beautifully.
Back At The Chicken Shack | A blues in F by organist Jimmy Smith. It was fun trying to imitate an organ while playing the melody on mandolin.
Some Skunk Funk | A Randy Brecker tune made famous by the Brecker Brothers. I first heard this while in high school when a sax player friend brought over Heavy Metal Be-Bop. While I was thinking about songs to do for the rest of this album I saw someone post a link to a video of them doing it again in the 90's. I started tinkering around to see if I might be able to do with the mandolin trio. I knew within an hour that it was possible but needed at least a few days to get it under my fingers. Adam also did a great job of finding a way to play it on acoustic bass and Eric plays a great drum solo.
Rollo Interior | A section of "St. Alfonzo's Pancake Breakfast" which was written by Frank Zappa for Ruth Underwood to play on marimba. I felt the structure of this piece was strong enough to be a song in it's own right so we played the melody then and as a group improvised freely over the form before playing the melody again.
---
ALBUM ARTWORK
---
CREDITS
Chris Biesterfeldt – mandolin
Adam Armstrong – bass
Eric Halvorson – drums
Produced by Chris Biesterfeldt
Recorded by Michael Croiter at Yellow Sound Lab in New York City
Mixed by Michael Croiter
Mastered by Michael Fossenkemper at TurtleTone Studio in New York City
Associate Producer – Michael Croiter
Assistant Engineer – Jared Grubow
Art Direction – Aldo Sampieri
Photography – John Mazlish
Studio Session Photos – Shiori Shinohara, Anna Demidova/March 13 Photography
Photography Assistant – Silvana Jakich
"★★★★½…an invigorating trio recording while paying homage to one of the undersung greats of jazz."
– Sean J. O'Connell for DownBeat
MUSICIANS
Chris Biesterfeldt – guitar
Matthew Rybicki – bass
Jared Schonig – drums
QUOTES
"The new Chris Biesterfeldt CD Phineas is a work of art! Chris is one of the new guitarists starting to gain recognition for his playing and composing. His new CD is a tribute to the great piano genius from Memphis, Phineas Newborn. To take Phineas's piano arrangements and adapt them to guitar is a big challenge. Chris and his smokin' trio not only make it sound easy but they add their own touch to the music as well. Classics such as "Harlem Blues," "Sugar Ray," "The Midnight Sun Will Never Set," "Caravan" and Chris's own "Blues From Phineas" all reflect the soulfulness, swinging, and creativity we associate with Phineas. Having played with Chris for many years I've been a fan and I hope this CD win him many new fans!"
– Donald Brown
"Not one to take the easy way out Chris Biesterfeldt follows up his jazz mandolin recording by adapting the great Phineas Newborn Jr. on the guitar. It's nice to hear a fresh take on Phineas's music through Chris's guitar."
– Dave Stryker
---
THE STORY
I first heard of Phineas Newborn, Jr. through my teachers, guitarist Mark Boling and pianist Donald Brown, while in school at The University of Tennessee. At that time, I just listened to them playing different songs or arrangements on their gigs and some of the piano students would play some of Phineas' tunes as well. In particular, I remember Matt Fries playing Phineas' music on his gigs in Knoxville. I started buying Phineas' records and listening a lot. I might have learned a tune or solo or two but didn't take it much further than that.
When I first came to New York, I had jam sessions at my apartment a couple of times a week – thanks to an understanding wife and neighbors. There were a lot of musicians that I played with during that time but drummer Rodney Howard and bassist Matt Weiner were there more often than anyone else. It was with them that I first started trying to play some of this music along with other jazz standards. We played more than half of the music on this CD some 15 years ago at occasional gigs but mostly in the apartment.
I remember those times fondly, as we had a great time playing these tunes and arrangements by Newborn. Those sessions set the foundation for making this album possible. Matt, Rodney and I were always playing a lot of other music in addition to our jazz guitar trio. Matt was playing in different swing and jump blues bands and eventually moved to Seattle. Rodney was playing a lot of funk, pop and rock music and went on to play with Gavin Degraw and Avril Lavigne among others. I wound up staying in New York playing Broadway shows, doing recording sessions and playing a lot of different music to make a living. So while I was still practicing and occasionally playing jazz I was mostly playing pop, R&B, rock, etc. while jazz was put on the back burner. In fact, a lot of people that I was working with didn't even know that I also played jazz.
Toward the end of 2012, I could see that I wasn't going to be as busy at the beginning of 2013 and I wanted to use the opportunity to record this music for a few reasons: first and foremost, I really loved Phineas Newborn's music and his playing; second, it's a repertoire that I haven't heard played by guitar players and third, I had spent a lot of time learning how to play this stuff and wanted to share it with other people. Since Rodney and Matt weren't around anymore I needed to find a drummer and a bass player.
I had first met drummer Jared Schonig playing Broadway shows but knew he was also a great jazz player. While we were doing a gig in South Korea in 2011, I told him that at some point I was going to do a jazz record and that I was thinking of doing a trio record of all Phineas Newborn Jr. piano stuff done with a guitar trio instead of piano. He may have thought I was crazy at the time but he told me about how he had learned all the music on the album We Three with Roy Haynes.
Bassist Matt Rybicki and I met while playing at Radio City Music Hall for the Christmas Spectacular. I was practicing this Phineas music between shows and sometimes Matt would play through a tune or two with me. He sounded really strong and also knew a lot of the tunes. He and Jared were also good friends who had played a lot together, so I knew that Matt would be a great choice for this recording.
The next task was getting a couple of rehearsals and a couple of 6-7 hour sessions scheduled to record – not easy with everyone's busy schedules! However, we managed to get a couple of sessions booked in March of 2013. In a rare New York miracle all three of us got parking spots next to each other across the street from the studio! Finally things fell into place.
It's been a great joy as well as a challenge and education to spend time with this music over the years. I hope above all this joy comes across in these recordings. If you haven't listened to Phineas Newborn Jr. here is a list of the recordings that were a direct influence on this CD: Harlem Blues, We Three, I Love A Piano, Piano Portraits, The Great Jazz Piano of Phineas Newborn Jr., and A World Of Piano.
Thanks for listening!
-Chris Biesterfeldt
---
THE TUNES
Harlem Blues | A gospel song by Phineas Newborn Jr. from the album of the same title. This starts with and features the guitar. We played this faster than we had rehearsed it and certainly faster than the original version. The guitar playing has more country influence than many straight ahead jazz players might play with but this seemed to fit they way Phineas approached playing this song.
Sugar Ray | Another Phineas original song from the album We Three which included drummer Roy Haynes and bassist Paul Chambers. We do the same arrangement as the original and it features the whole trio.
Cookin' At The Continental | A Horace Silver blues that Jared opens with 12 bars out front. Even though we play it pretty fast, there is nice communication with the trio. The guitar solo has a few Newborn ideas thrown in and Matt plays a nice bass solo.
The Midnight Sun Will Never Set | A Quincy Jones/Henri Gabriel Salvador song that Phineas originally recorded on an album called I Love A Piano and is now included on the Piano Portraits CD. There is also a solo piano version on the aptly titled album, Solo Piano. It was already in the key of D, a good guitar key, which enabled using open strings to create a more pianistic sound.
Caravan | Basically done like Phineas did it on Piano Portraits. We do the A sections as a funk groove with the same bass line and hits at the end of each 8 bar phrase and we swing the B sections. What we do differently is play it with a more modern funk feel and the swing sections are broken up a little more. Matt does this brilliantly! In the A sections the guitar voices the melody like the Freddie Hubbard arrangement on Art Blakey's version of "Caravan." The end opens up for a great drum solo by Jared!
Reflection | Also from the album We Three and our arrangement is true to the original recording starting out with Jared doing a Roy Haynes' like drum intro. I tried to play the melody much like the original, but played a more guitar-like solo. Jared plays another great drum solo in which his personality comes through.
Juicy Lucy | Another Horace Silver tune. It's a bluesy melody written over the chord changes of Charlie Parker's "Confirmation." The guitar plays the intro and melody as close as possible to the way Phineas does on A World Of Piano. Matt plays a beautiful melodic solo on this.
Domingo | A great Benny Golson tune that doesn't get played often enough. Though recorded earlier on Lee Morgan, Vol.3, I first heard it on The Great Jazz Piano Of Phineas Newborn Jr. and loved the tune and arrangement. We do a faithful arrangement to this version with Matt doubling the melody in the A sections. Matt plays another melodic bass solo.
Phineas | A song by Donald Brown that I first heard on his album Sources Of Inspiration. It's the only song included here that isn't directly influenced by one of Phineas' recordings. But Donald is from Memphis and was friends with Phineas and certainly influenced by him. This song retains a bluesy feel throughout but has a more modern chord structure than many songs on Phineas' recordings.
Manteca | A Gil Fuller/Dizzy Gillespie/Chano Pozo song that Dizzy first recorded with a big band in 1947. Newborn's take of it on A World Of Piano incorporates many elements of Dizzy's big band arrangement. This guitar trio tries to do the same with Phineas Newborn's arrangement and there are solos by everyone.
Sweet And Lovely | A Gus Arnheim/Jules LeMare/Harry Tobias standard also from the album Harlem Blues. We do this same arrangement which starts with a 12/8 vamp that continues under the melody at the beginning of the A sections. This is a little tricky to play on guitar. Matt keeps it swinging while playing interesting fills throughout. During the solos the A sections alternate between 4 bars of hits for a drum solo then 4 bars of guitar solo.
Theme For Basie | Another Phineas Newborn Jr. original from The Great Jazz Piano of Phineas Newborn Jr. This arrangement swings throughout and features the whole trio.
Blues From Phineas | Taken from part of Phineas' solo on "Cheryl," a Charlie Parkers blues that is the first cut on A World Of Piano. Here it is a minor blues with a few kicks added. The guitar solo retains some of Newborns' bluesy influence and is followed by another swinging drum solo by Jared.
---
ALBUM ARTWORK
---
CREDITS
Chris Biesterfeldt – guitar
Matthew Rybicki – bass
Jared Schonig – drums
Producer – Chris Biesterfeldt
Associate Producer – Michael Croiter
Recorded by Matthias Winter at Yellow Sound Lab in New York City in 2013
Mixed by Matthias Winter, Chris Biesterfeldt & Michael Croiter
Mastered by Michael Fossenkemper at TurtleTone Studio in New York City
Art Direction – Aldo Sampieri
Photography – John Mazlish
Photography Assistants – Silvana Jakich and Jaimie Lilly